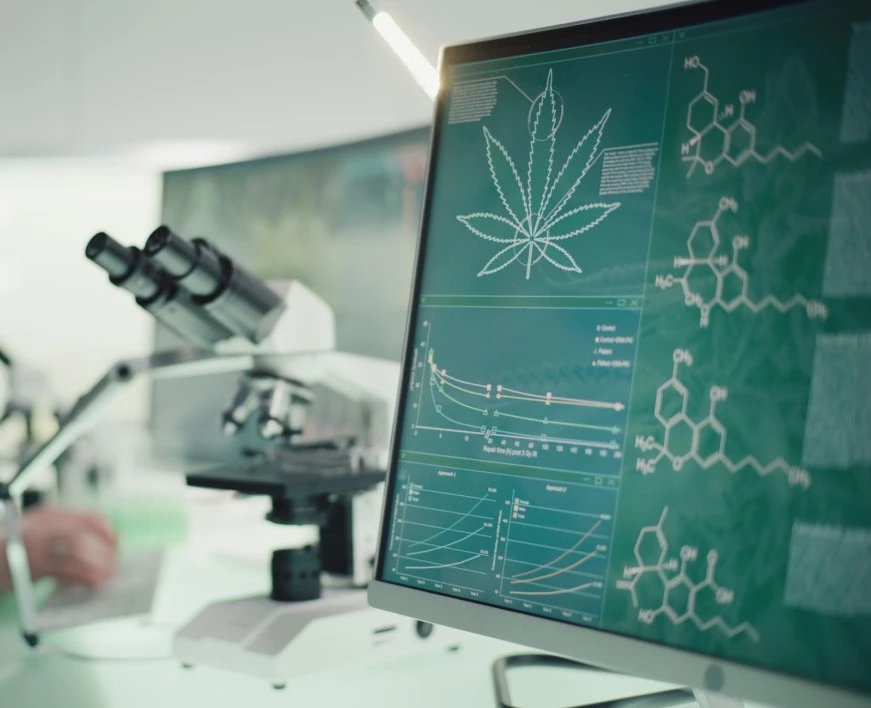 Our High Quality and Accurate Testing Service
You can rest assured that your sample testing will be conducted quickly and accurately by our testing laboratories, with expert scientists to help interpret data and suggest strategies if results are not in line with expectations. Every stage of the process, from sample receipt and registration, analytical testing using various techniques, data verification, and Certificate of Analysis reporting, is supported by our Quality Management System.
GMP and GLP accredited sample handling and analytical testing
Highly qualified laboratory technicians and scientific experts
State-of-the-art instrumentation
Ease-of-use client software portal
Fast turnaround times and accurate data
High throughput of sample testing per month
Our Sample Analysis and Characterization Services
Cannabinoid Profiling and Quantification

Ensuring your products meet regulatory standards through reliable profiling, qualification, and quantification of cannabinoids, including total levels of delta-9 THC, delta-8 THC, CBC, CBD, CBG, CBN, THCV, THCA, CBDA, CBGA, CBDV, CBL, CBNA, THCVA, CBDVA, CBCA. Employing highly sensitive analytical methods to measure cannabinoids and ensure the absence of psychoactive cannabinoids.
Terpenes Testing

Terpenes are volatile unsaturated hydrocarbons that contribute to the variety of cannabis flavors and aromas. Qualification and understanding of terpene profiles as part of the overall characterization process can contribute to controlling your product's consistency, quality, and reliability.
Residual Solvent Testing

Residual solvent testing will provide insight into the extraction by-products found in the processed cannabis or hemp used in your product formulation to allow a more comprehensive characterization of the product.
Cannabinoid Testing Services Resources
Learn more about how we can help bring your medicinal cannabis or CBD product to market through our high-quality analytical testing services.
Cannabinoid Industry Insight and Expert Opinion
Learn more about our activities and gain insight from our scientific and regulatory experts
Visit the blog
Cannabidiol (CBD) is the second most prevalent active ingredient (the first being tetrahydrocannabinol or THC) in the cannabis plant (e.
Introduction The increasing popularity and availability of cannabidiol (CBD) products has raised concerns regarding their safety, quality control, ....