The Role of Toxicology Analytical Tests for NGP
---
The objective of toxicological tests for NGP is to develop an informed and scientifically justified assessment of the risk to health presented by the product. This involves considering the nature of any hazard presented by an ingredient, exposure levels during normal usage, and the physical dose response. Analyzed together, this data builds a risk characterization for a specific product. Toxicology studies must be developed with a tailored approach to study design, data gathering, and risk assessment based on the regulatory pathway and product requirements.
Assessing areas of potential toxicological concern across ingredients, materials, emissions, and the whole product.
Understanding potential biological responses to specific endpoints, including single ingredients and the entire product.
Recording and storing toxicological data associated with a product or substance used in a product.
Providing expert toxicological advice to ensure regulatory compliance.
Our Toxicological Testing Services
Whatever stage of product development or commercialization your NGP is, our experienced toxicologists will provide the insight and guidance needed to ensure the best study design and analysis so you can achieve regulatory compliance and commercial success. The close integration between our chemistry and toxicology teams, plus our expertise in NGP testing, helps deliver a differentiated service with a streamlined study design that can save costs and reduce project timelines.
Toxicological Risk Assessments
In Vitro Toxicological Testing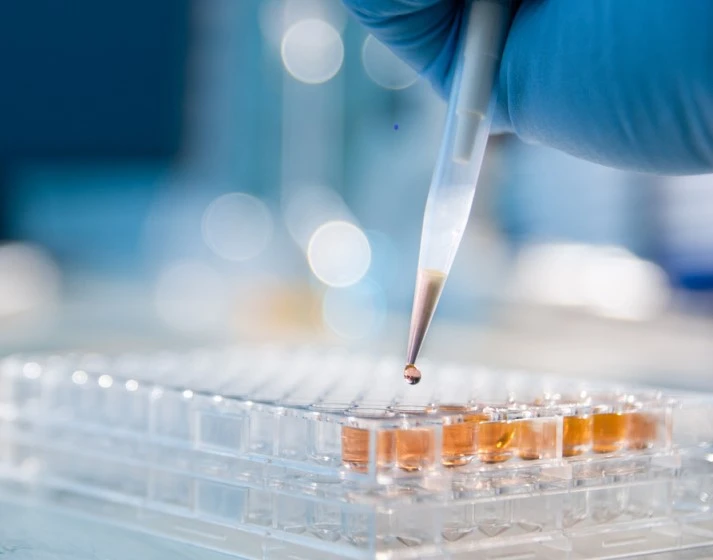 Our Toxicological Risk Assessment Services
Hazard Screening

Used to assist with product development, evaluate third-party products for acquisition, or identify products as regulatory submission candidates.
In silico Risk Assessment

An assessment of risk using predictive tools including Derek Nexus, Leadscope, Toxtree, and The Organization for Economic Cooperation and Development (OECD) Toolbox.
Expert Review

An expert scientific review providing a critical evaluation of all available toxicological data.
Literature Review

A systematic literature review may be conducted as a stand-alone project, or in support of a regulatory submission.
Toxicity Profiling

Profiles may be tailored specifically to the chosen regulatory pathway and summarize the existing hazard data, published scientific studies, and expert body reviews.
Quantitative Risk Assessment (QRA)

An individual health risk assessment of ingredients used in the medium of nicotine delivery, device, packaging materials, and aerosol emissions when compared to other tobacco products.
Narrative Writing

A comprehensive regulatory report evaluating the potential health risks associated with both individual constituents and the whole-product format based on quantitative chemistry, toxicology, and exposure assessments.
Our In Vitro Toxicological Testing Services
Customized Aerosol Collection and Chemical Characterization

Aerosol collection, sample generation for use in in vitro assays, and chemistry characterization for inhaled NGP such as e-cigarettes and heated tobacco products.
Extraction of Liquids for Nicotine Pouches

Extraction and chemistry characterization of liquid extracted from the modern oral nicotine pouches.
Designing In Vitro Studies

Identifying testing laboratories and designing study methodologies in accordance with client requirements.
Interpretation and Reporting In Vitro Data

Interpreting in vitro toxicology results for various validated and novel assays, including 3D models, and producing summary reports.
Novel Method Development and Validation

Novel In Vitro Method Development and Validation.
Nicotine Testing Services Resources
Learn more about how we can help bring your nicotine delivery product to market through our high-quality analytical testing services.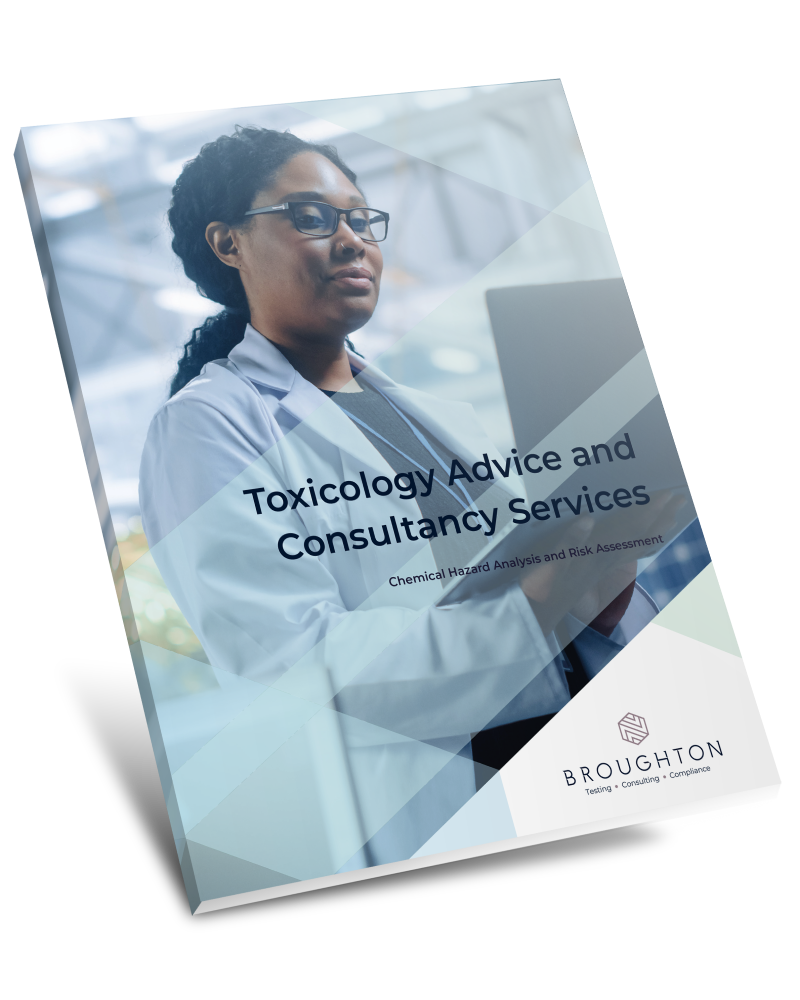 Toxicology Advice and Consultancy Services
Our team of in-house toxicologists reviews and evaluates toxicological data on a wide range of chemicals to produce independent expert opinions on risk assessment. We then advise on the strategies to mitigate or reduce those risks to protect corporate reputation and public health.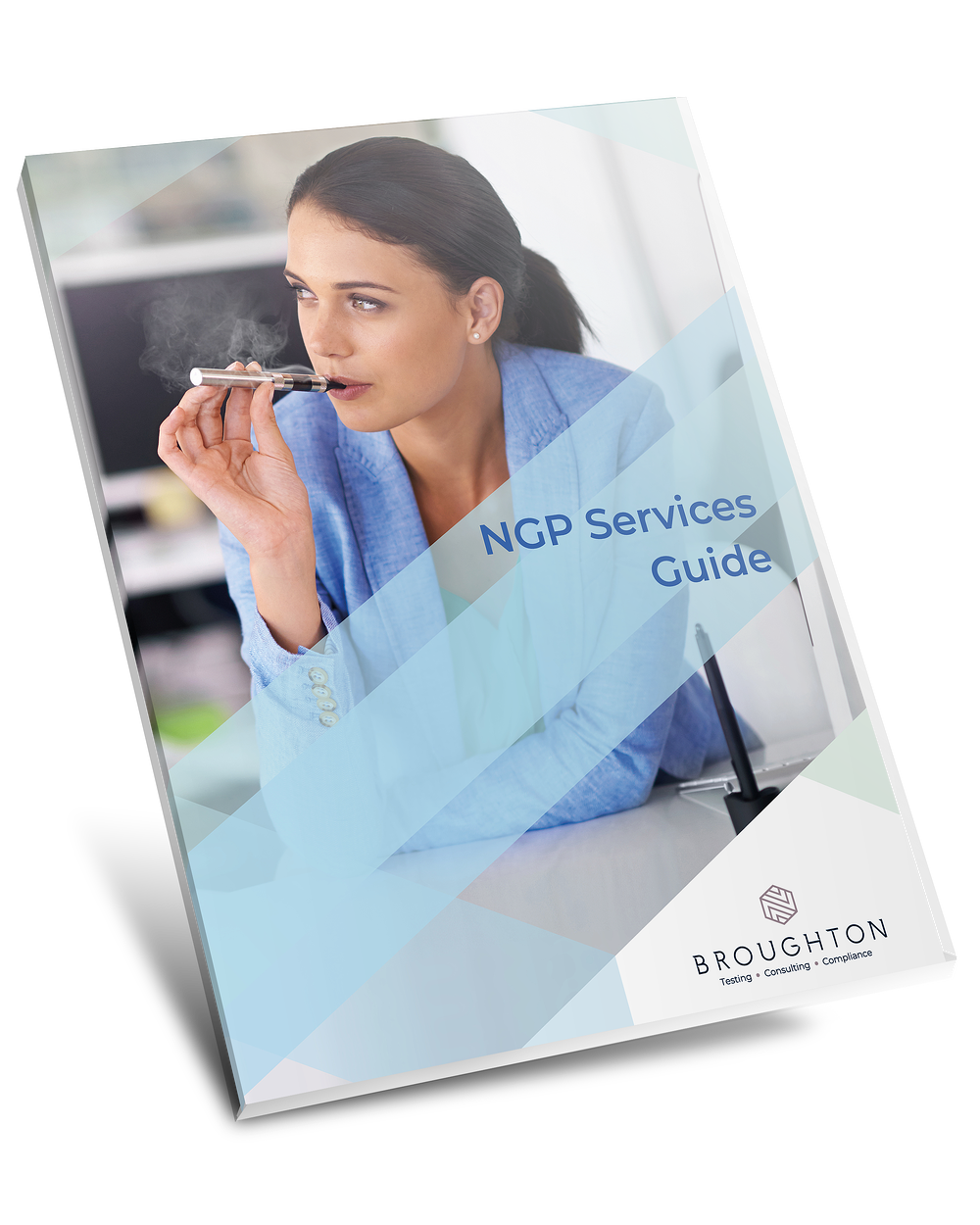 Next Generation Nicotine Products Service Guide
We help companies of all sizes through the product lifecycle stages, from concept innovation, product realization, and regulatory submission to post marketing surveillance.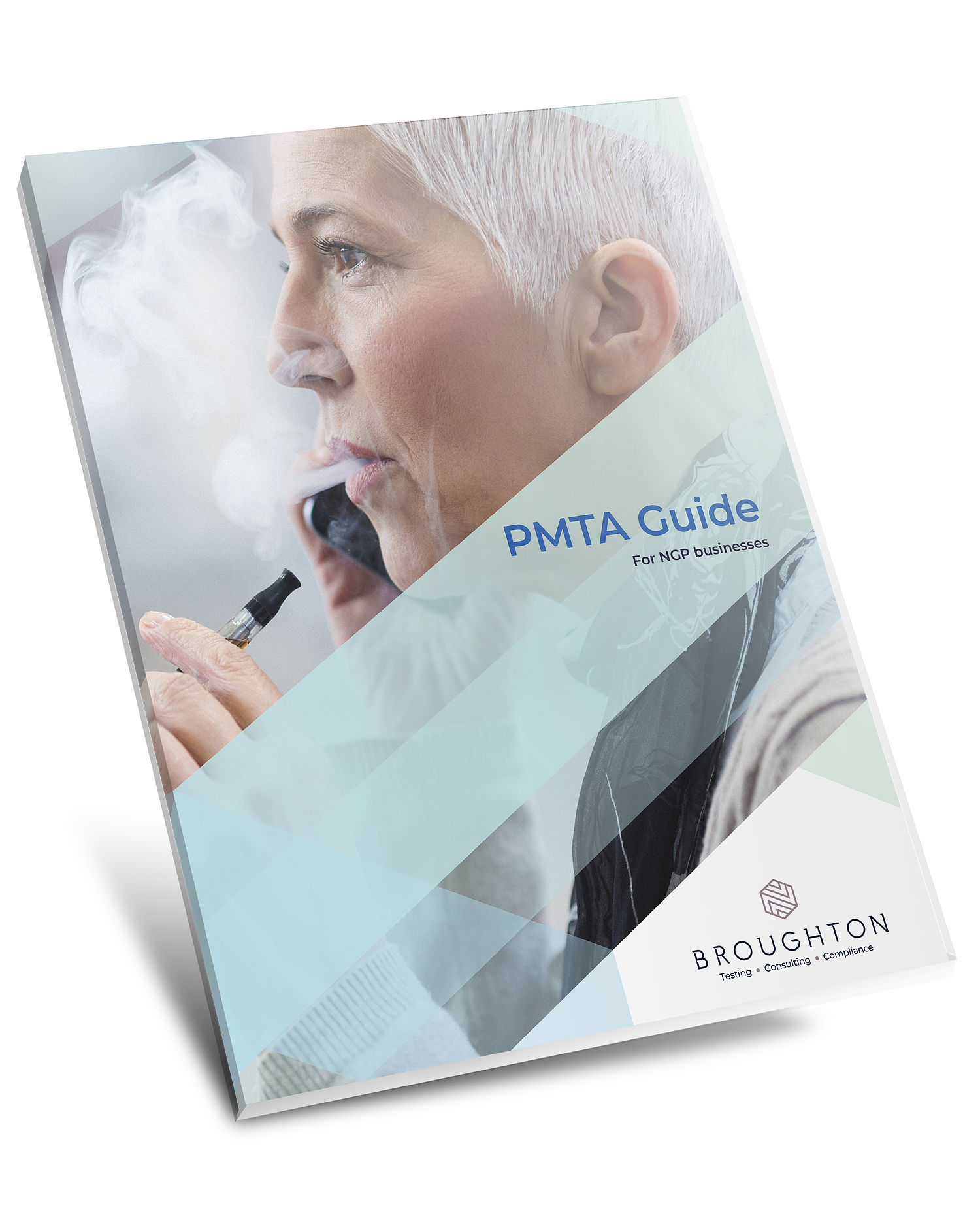 PMTA Guide For NGP businesses
At Broughton, our consultants have deep industry knowledge across all the elements required for a PMTA. We guide you through and generate the required data, to ensure that FDA finds your applications strong and compelling.
Nicotine Industry Insight and Expert Opinion
Learn more about our activities and gain insight from our scientific and regulatory experts
Visit the blog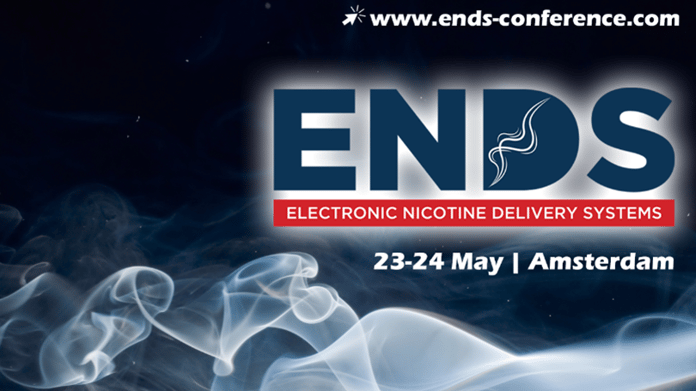 Broughton's Managing Consultant for Product Realization, Pete Lomas, shares his thoughts from the recent ENDS (Electronic Nicotine Delivery System) ....
This year's Next Generation Nicotine Delivery USA Conference brought many of the same challenges as last year back under discussion, providing ....
GFN2023 was held in Warsaw with the tagline – the next decade.