Comprehensive Nicotine Testing
Whatever your next generation nicotine delivery product (NGP) or Nicotine Replacement Therapy (NRT) testing requirements, we have the expertise and regulatory insight to build a scientific testing strategy that ensures complete but efficient product understanding and regulatory compliance. Whether you are looking for a partner to work with on a new R&D project, a regulatory submission, or to strengthen scientific understanding for post market purposes, our subject matter experts will add deep insight to your project built from their years of industry experience.
Analytical Method Development and Validation
QC Release Testing
Stability Storage and Analysis
Harmful and Potentially Harmful Constituents (HPHC)
Toxicology Testing for NGP
Extractables and Leachables
Product Assessment
Testing Expertise Across All Nicotine Product Categories
Whatever your nicotine product category, we can support you with a comprehensive testing strategy that helps build the scientific evidence and insight needed to gain regulatory approval and consumer trust. Our scientific experts have extensive experience across all forms of consumer next generation nicotine delivery products (NGPs) and medicinal nicotine replacement therapies (NRTs).
E-cigarettes and E-liquids
Heated Tobacco Products
Modern Oral Nicotine Pouches
New Nicotine Delivery Innovations
Nicotine Replacement Therapies
Nicotine Testing Services Resources
Learn more about how we can help bring your nicotine delivery product to market through our high-quality analytical testing services.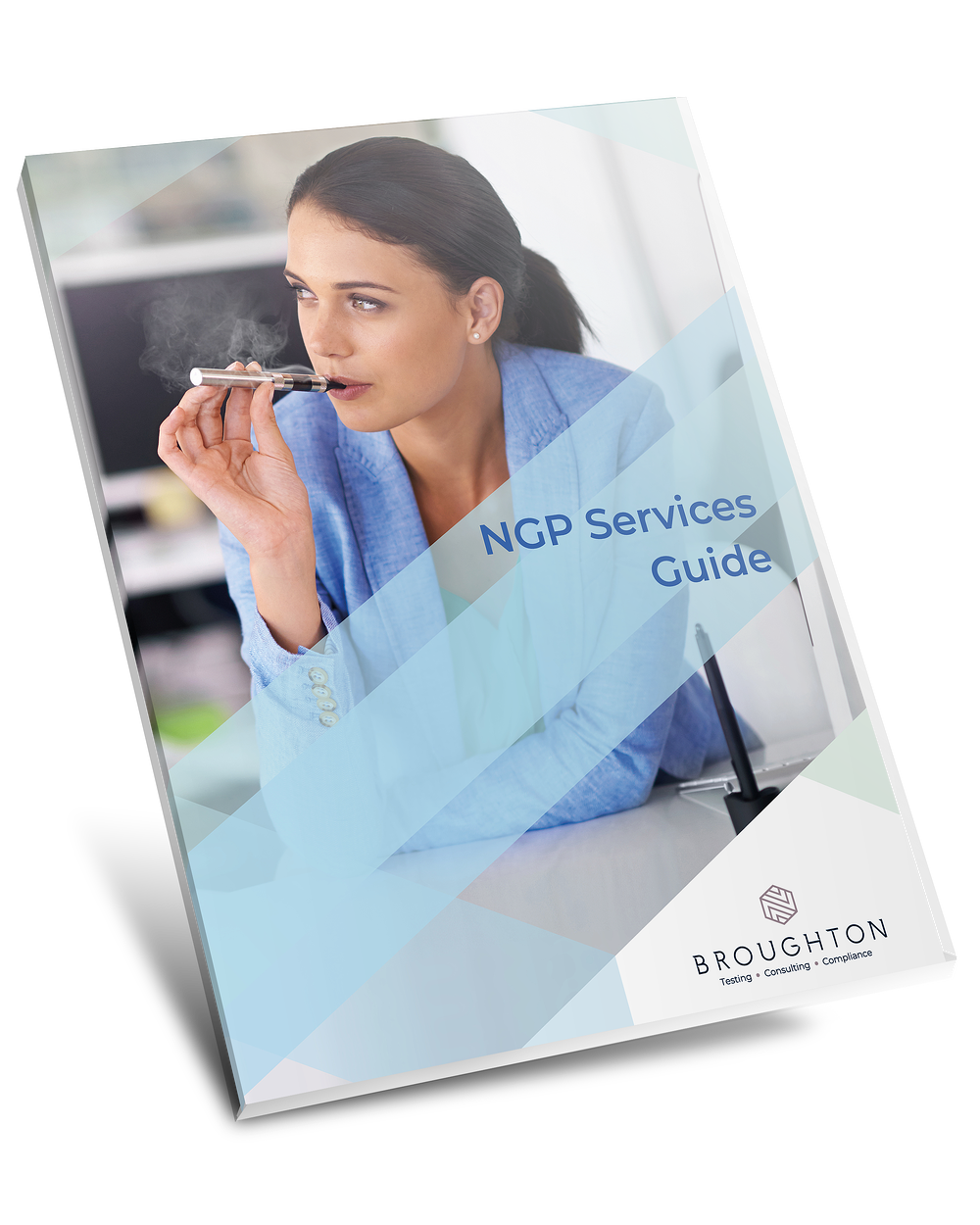 Next Generation Nicotine Products Service Guide
We help companies of all sizes through the product lifecycle stages, from concept innovation, product realization, and regulatory submission to post marketing surveillance.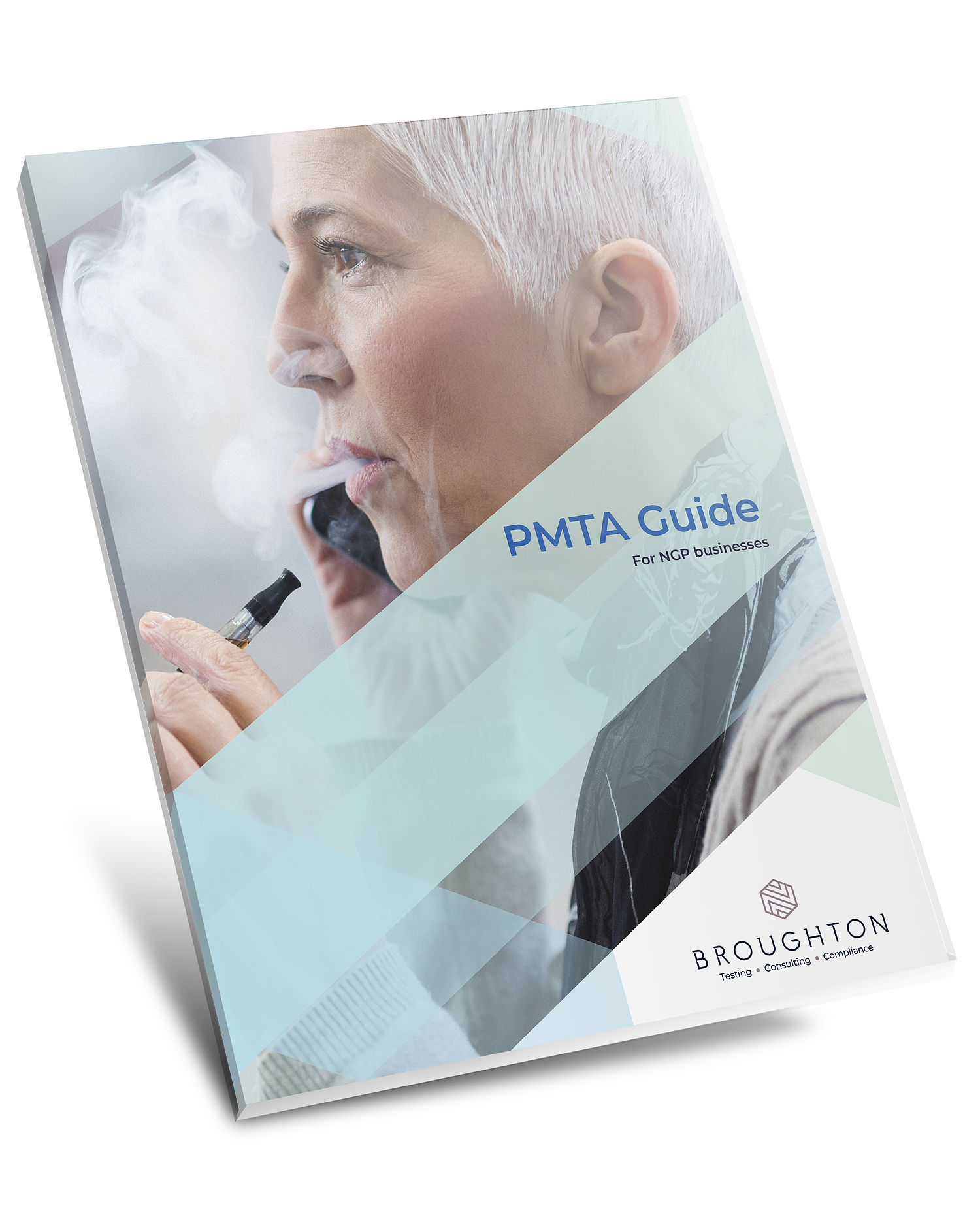 PMTA Guide For NGP businesses
At Broughton, our consultants have deep industry knowledge across all the elements required for a PMTA. We guide you through and generate the required data, to ensure that FDA finds your applications strong and compelling.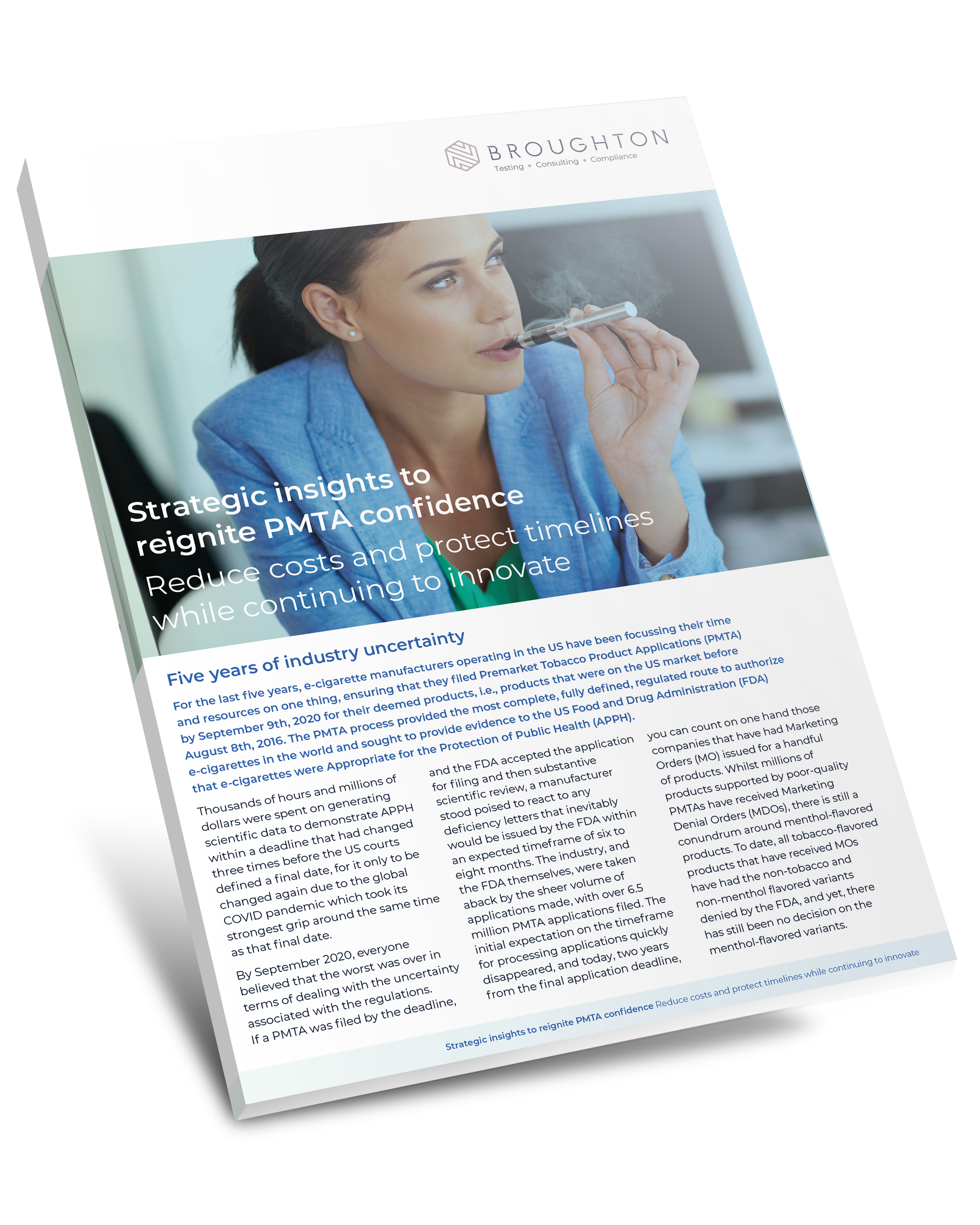 Strategic Insights to reignite PMTA confidence
Dr. Nveed Chaudhary Chief Scientific and Regulatory Officer, Paul Hardman Managing Consultant Chemistry and Manufacturing Controls, and, Libby Clarke Managing Consultant Toxicology share their thoughts on how to reduce costs and protect timelines while continuing to innovate.
Nicotine Industry Insight and Expert Opinion
Learn more about our activities and gain insight from our scientific and regulatory experts
Visit the blog
Yesterday I attended the UKVIA reception at the House of Commons to launch this year's VApril campaign.
Ben Green, a Broughton Program Manager working on large nicotine-related regulatory projects, writes on the latest move by FDA to enforce against ....