GTNF 2022 Review – Accessing Innovation
Nicotine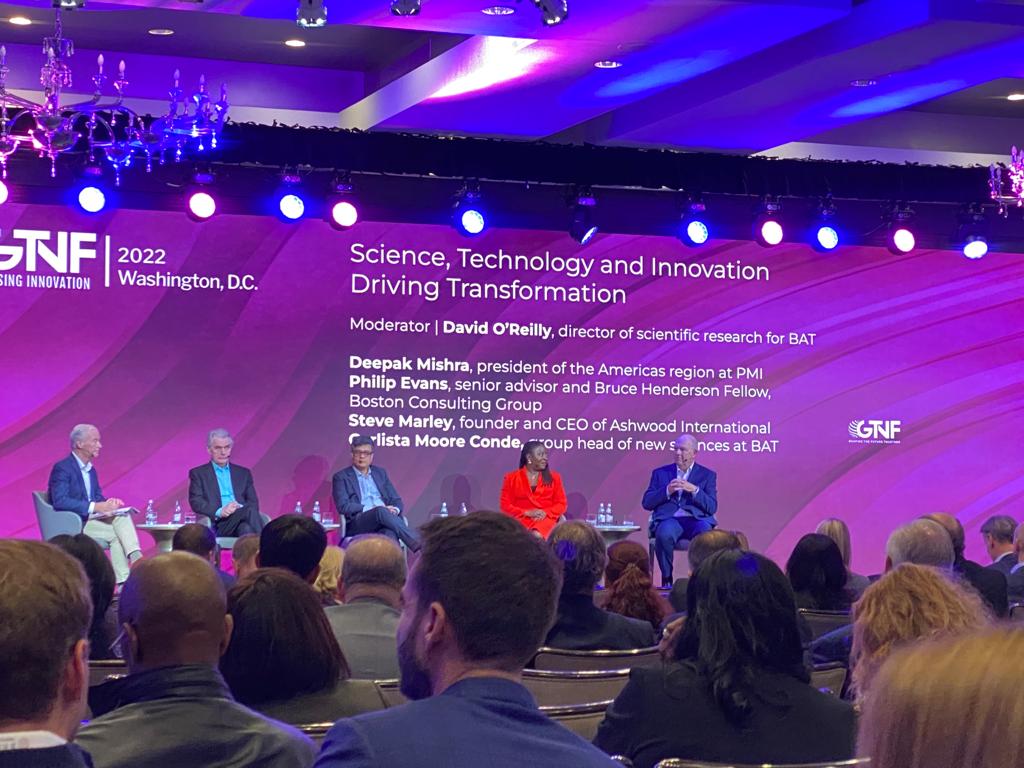 The Broughton team were at the prestigious Four Seasons hotel in Georgetown, Washington DC for this year's Global Tobacco and Nicotine Forum (GTNF 2022). Andy Mooney, Chief Commercial Officer, summarizes his main takeaways from the event.

The theme for this year's GTNF was 'Accessing Innovation' and what followed was two days of keynote speeches and panel discussions investigating this topic from multiple angles.

The first keynote speaker was Deepak Mishra, President of the Americas Region at Philip Morris International (PMI). Deepak shared with the audience how PMI has invested upwards of $9bn in developing Next Generation Nicotine products (NGPs) and proudly stated that such products now represented 30% of total PMI revenues, putting them well on the path to exiting the combustibles market. His mantra was that innovation drives transformation and that PMI was well on the road to transforming its business away from combustibles.
The next speaker was Phillip Evans, Senior Advisor at Boston Consulting Group, who presented on innovation strategy at some of the most successful companies in the world including Apple and Google. It was fascinating to see the different approaches to collaboration around innovation at these companies with his point being you can innovate in many different ways, but the most successful companies have a clear plan for how they do it. It doesn't just happen.

During a panel discussion on the topic of sustainability Jennifer Hunter, Senior Vice President of Corporate Citizenship and Chief Sustainability Officer at Altria explained how this was a major focus area at Altria. Given the points made by other panel members and in other discussions during the GTNF, this is clearly the same for the majority of companies participating.

The afternoon of day one commenced with a talk by Brian. A. King, the new Director of the Center for Tobacco Products (CTP) at the Food and Drug Administration (FDA). The agency is usually under pressure at these events, with the industry dissatisfied with the US PMTA regulatory progress. There was not much new news from Brian, and it is public knowledge that there remain around 100,000 PMTA applications that met the September 2020 deadline still under review. Brian's main point was that the science within these applications will drive marketing order decision-making. To date, there have only been 23 successful PMTA authorizations for ENDS products. At Broughton, we are proud that some of these include clients that we have helped to reach a positive outcome. The event coincided with the issuing of a white paper Strategic Insights to Reignite PMTA Confidence (link) that shares our learnings on how companies can approach PMTA projects designed for success while also managing the associated costs. From an industry and user perspective, it would be encouraging to see open system and e-liquid products gain PMTA regulatory authorizations so these products, which help many adult smokers to quit, have a future in the US.

Day two opened with a speech from Adam Afriyie, MP for Windsor in the UK and the Chair of the Parliamentary Office of Science and Technology. He also sits on the All-Party Parliamentary Group on Vaping. Adam explained how, in contrast to the US, the UK is aligned with the belief that vape products lead to harm reduction by helping smokers quit and are essential to delivering the UK's goal of being smoke-free by 2030. However, he also stated that the harm reduction message needs constant reinforcement as misperceptions remain within the medical and general public communities. One way to win over doctors and healthcare professionals is for vape products to be licensed as Medicinal Products via the Medicinal Authorization Application (MAA) process, in addition to the existing consumer products pathway. Although there is cost and time required to achieve this, an MAA for reduced-risk products would give reassurance to healthcare professionals, who are familiar with this regulatory pathway and the confidence it provides for approving pharmaceutical products.

Looking beyond the UK and US, Fadi Maayta, President at Alternative Nicotine Delivery Systems (ANDS) was part of a panel discussing the state of regulation in global markets. Fadi is one of the leading advocates of vape products in the Middle East region where regulations across 22 markets vary and once again misinformation is impacting harm reduction messaging. There are several companies in the region that are innovating to progress vape technology and it is to be hoped that regulation will support rather than stifle this.

The overall conclusion from the event was that with appropriate regulation, innovation has the potential to thrive and enable the industry to bring better and more effective NGP products to market to help reach a point where a smoke-free future is possible. When that day arrives, the benefits in terms of public health will be huge. At Broughton, we are committed to helping our clients bring these life-enhancing products to market to improve quality of life.